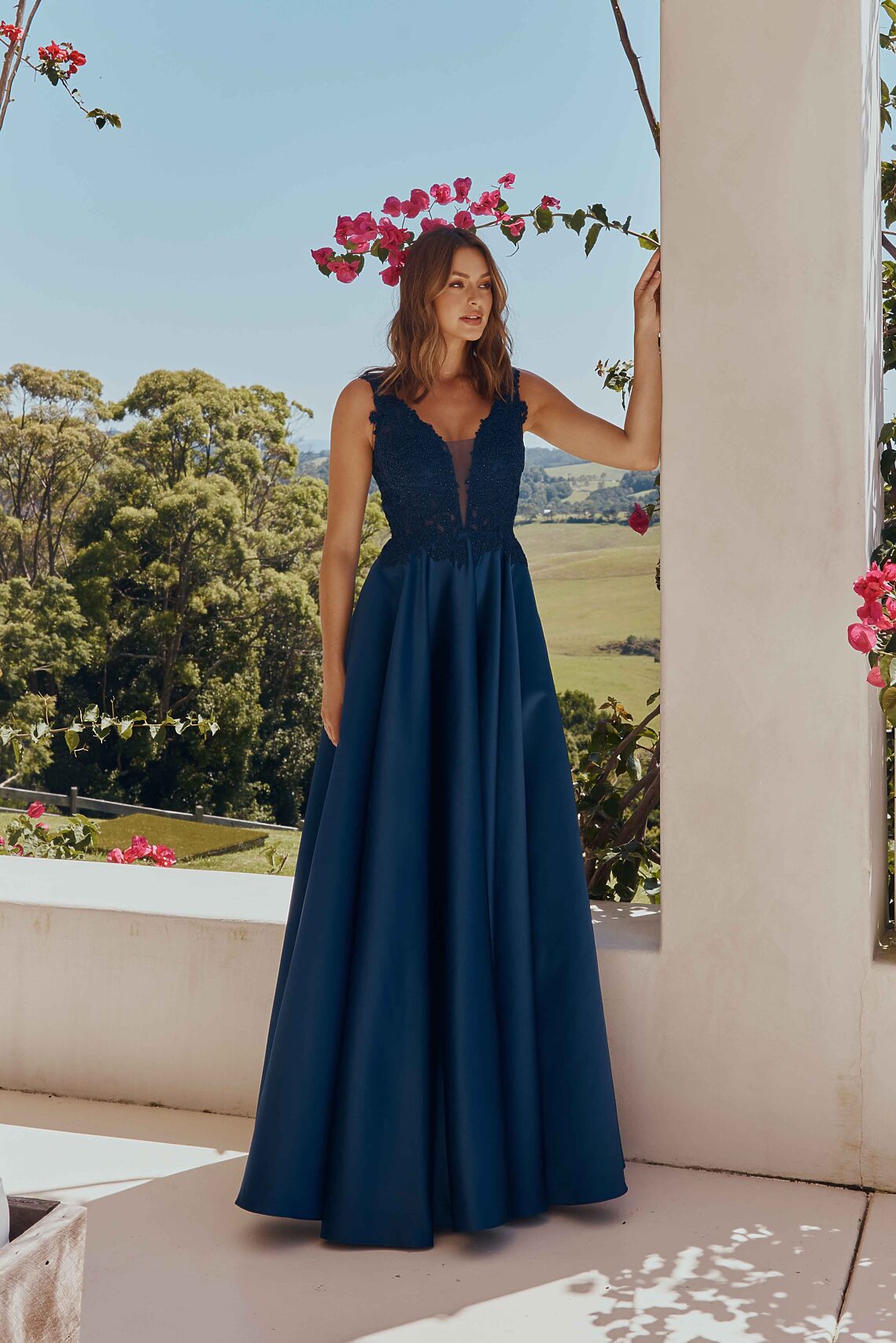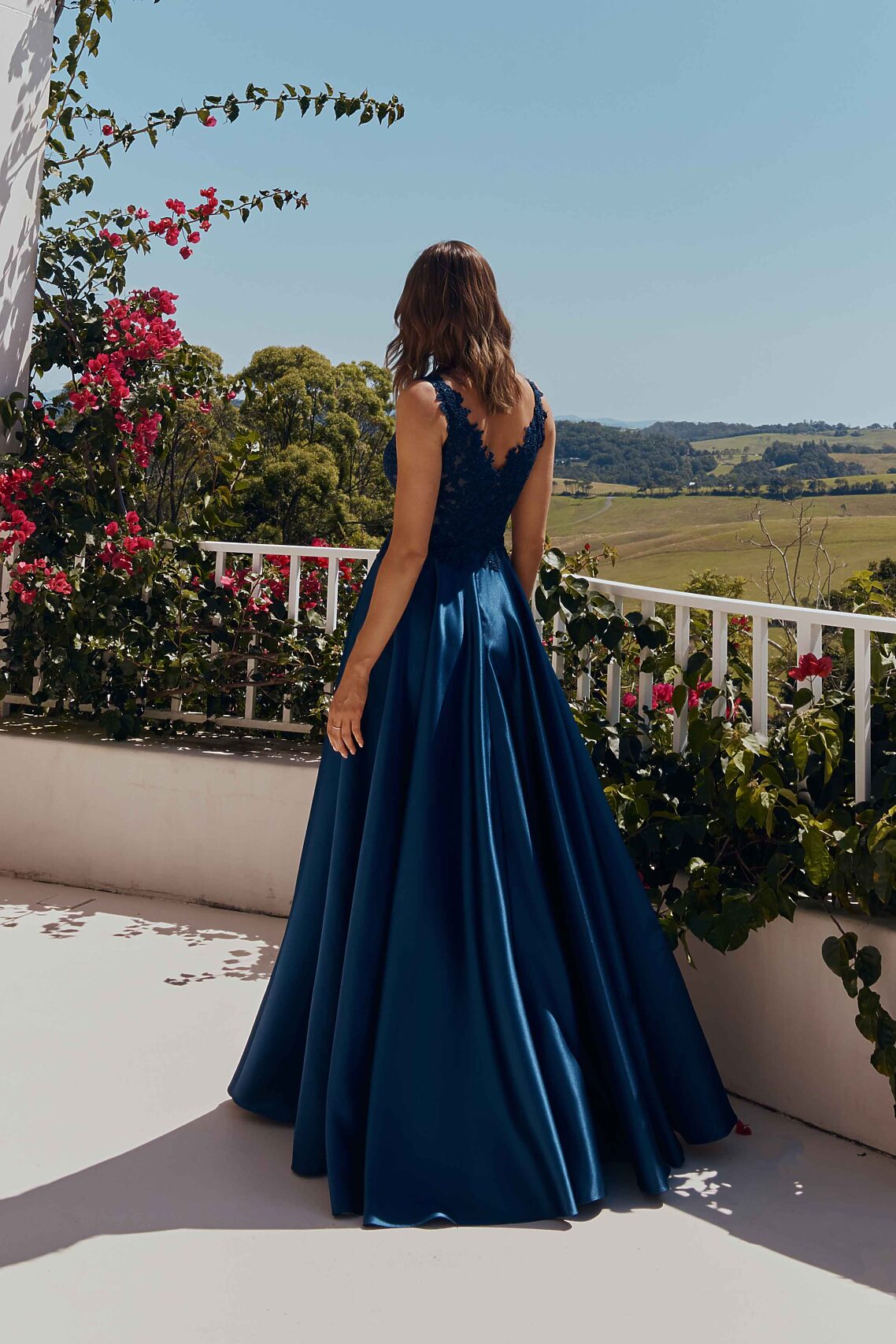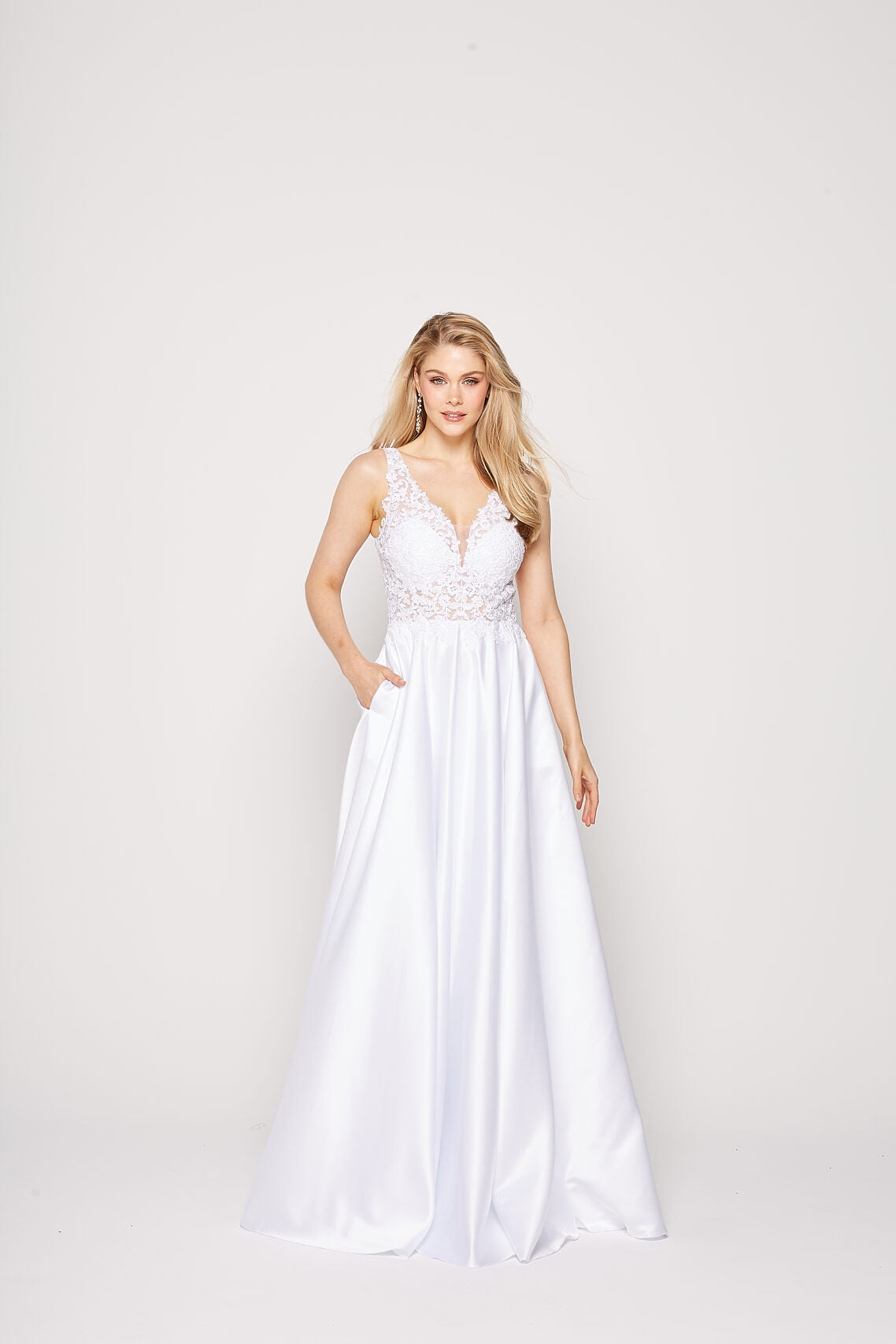 Are you ready to turn heads and make a statement? Introducing the stunning Eden PO2319 dress, designed especially for you! Get ready to fall in love with the enchanting Eden dress. Made from luxurious beaded lace applique and smooth matt satin, this dress is the epitome of elegance and style. The bodice features a deep V mesh insert neckline that adds a touch of allure and sophistication. With wide shoulder straps, it offers the perfect balance of comfort and fashion. But that's not all—the Eden dress has a delightful surprise for you. It features a full-circle skirt with hidden pockets! Yes, you heard it right—pockets! Now you can dance the night away while keeping your essentials close at hand. The upper lace applique detailing adds a touch of romanticism and makes this dress truly one-of-a-kind. Comfort is always a priority, and we've got you covered. The Eden dress is designed with your comfort in mind. It comes with inner bra cups, providing support and ensuring a perfect fit. The skirt is fully lined, so you can move with ease and grace all night long. And with the invisible back zipper, getting in and out of the dress is a breeze. Whether you're attending a school formal, a special occasion, or a memorable event, the Eden PO2319 dress will make you feel like a true fashion icon. It's a dress that combines timeless elegance with modern trends, allowing you to showcase your unique style and personality. You deserve to feel confident, beautiful, and empowered, and the Eden dress is here to make that happen. With its beaded lace applique and luxurious satin, it's a dress that will make you stand out from the crowd. It's your time to shine, to create unforgettable memories, and to be the centre of attention. Features of the Eden PO2319 Formal dress: Luxurious beaded lace applique and smooth matt satin for elegance and style Deep V mesh insert neckline for allure and sophistication Wide shoulder straps for comfort and fashion Full circle skirt with hidden pockets for convenience Upper lace applique detailing for a touch of romanticism Inner bra cups for support and a perfect fit Fully lined skirt for ease of movement Invisible back zipper for easy wear Perfect for school formals, special occasions, and memorable events Combines timeless elegance with modern trends Embrace your unique style and feel confident in the Eden PO2319 dress
Regular price

Sale price

$426.00

Unit price

per
Free Shipping
Free standard shipping on orders over $250
Are you ready to turn heads and make a statement? Introducing the stunning Eden PO2319 dress, designed especially for you!
Get ready to fall in love with the enchanting Eden dress. Made from luxurious beaded lace applique and smooth matt satin, this dress is the epitome of elegance and style. The bodice features a deep V mesh insert neckline that adds a touch of allure and sophistication. With wide shoulder straps, it offers the perfect balance of comfort and fashion.
But that's not all—the Eden dress has a delightful surprise for you. It features a full-circle skirt with hidden pockets! Yes, you heard it right—pockets! Now you can dance the night away while keeping your essentials close at hand. The upper lace applique detailing adds a touch of romanticism and makes this dress truly one-of-a-kind.
Comfort is always a priority, and we've got you covered. The Eden dress is designed with your comfort in mind. It comes with inner bra cups, providing support and ensuring a perfect fit. The skirt is fully lined, so you can move with ease and grace all night long. And with the invisible back zipper, getting in and out of the dress is a breeze.
Whether you're attending a school formal, a special occasion, or a memorable event, the Eden PO2319 dress will make you feel like a true fashion icon. It's a dress that combines timeless elegance with modern trends, allowing you to showcase your unique style and personality.
You deserve to feel confident, beautiful, and empowered, and the Eden dress is here to make that happen. With its beaded lace applique and luxurious satin, it's a dress that will make you stand out from the crowd. It's your time to shine, to create unforgettable memories, and to be the centre of attention.
Features of the Eden PO2319 Formal dress:
Luxurious beaded lace applique and smooth matt satin for elegance and style
Deep V mesh insert neckline for allure and sophistication
Wide shoulder straps for comfort and fashion
Full circle skirt with hidden pockets for convenience
Upper lace applique detailing for a touch of romanticism
Inner bra cups for support and a perfect fit
Fully lined skirt for ease of movement
Invisible back zipper for easy wear
Perfect for school formals, special occasions, and memorable events
Combines timeless elegance with modern trends
Embrace your unique style and feel confident in the Eden PO2319 dress